Tips to Identify the haunted house and the evil spirits
The Haunted House: In houses wherein any human has spent his complete life or end his/her life or died due to poisoning and/or accident, suicide or molestation, such type of houses come under the category of 'Pret Baadhaa'.
In the Year 2018, I have been to my colleague House – Neeta ( named changed) for casual meet for a Dinner at her home accompany my friend Sonu who is interested in occult science.
Once, I enter the house, I felt shivering inside my body and i was wondering as what is happening to me and a small headache start after half an hour. But I ignore the sign as I do not expect such sudden changes in my body.
When we went to the terrace of the house, I found a few weird combinations of vastu like a scratch in-wall, South West Rahu Door Opening, and extreme darkness although it was 6 pm in the evening. There was a feeling of some presence of another person that I was able to experience.
Later, in the night when I ask Neeta, how she get this house, she told , her husband to get this house at a cheaper rate and this house was closed for 2 years.
After 6 months, all of sudden she called me for a favor to visit her house immediately as she has to start experience paranormal activity in the night after 10 pm.
READ: Importance of Turtle in Vastu
I visited the house, observed the vastu , its objects placed in the living room, door placement, titled cut wall, photo frame of the Grandfather who died by accident, etc.
I ask my friend to remove the Photo Fram of this Grandfather, placed the picture of Hanumanji tiles above the Main Door, offer sindoor and chameli oil.
Do daily prayer twice with Hanuman Ashtak, Chalisa and Bajrang Baan. Also, advise to repair the cut wall with scatch in a wall by painting and plaster of Paris and do necessary changes like removing Thrones Plant from the house and replaced with Tulsi.
READ: Boost Positive Energy with Main Door
After 90 days, I made a casual phone call to her to take some professional help and she informed me that the house feels good and all the paranormal experience has been shut down after making changes suggested by me.
This shows that Vastu played an extremely important role when it comes to the haunted house and it increases the malicious effect if the negatives energies are invited. Let find out the Tip to identify such haunted house by mean of Vastu Shastra.
There is extreme darkness in the house evening in the day house.
The South West Corner ( Neruthi Disha) is disturbed.
A haunted house is vacant for a longer period of time.
People residing in such a house felt ill faster and do not get healed easily.
Family Members has lots of difference of opinions and disputes with or without any reason(s).
The main earning member is unable to decide the career path and does not get the suitable source of income and suffers from financial crises.
Members in the house died all of sudden from accident or illness.
Member viz young girl and boys in a family do not get a suitable match for marriage and there seems extreme late or No marriage in the house.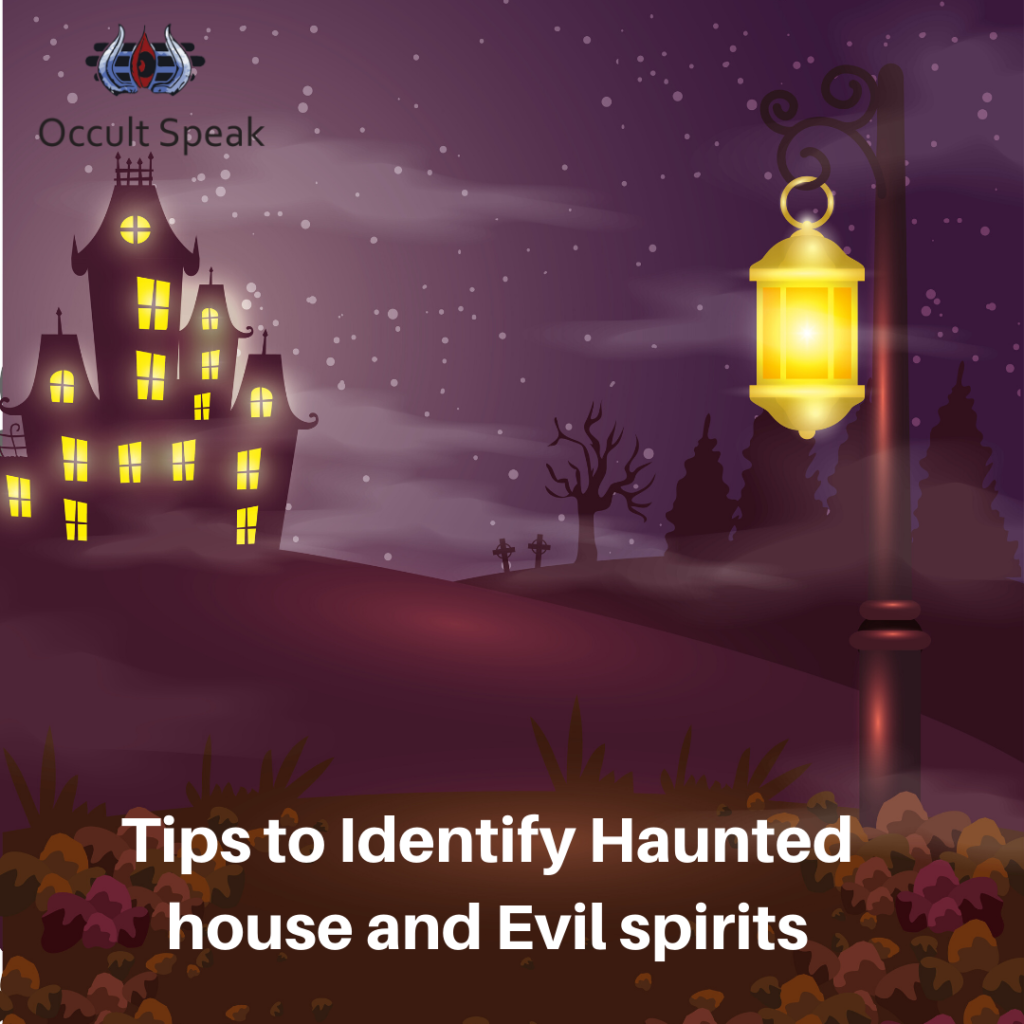 How to avoid such Negative Energies?
1. Photo frames of ancestors or elder died by mean of accident are later get converted into evil spirits hence photo with evil spirits if kept at the home will create lots of disturbances in the life of the human beings who are residing in such type of Vastu.
2. It is suggested that one should hammer the nail made up of copper or any other metal into the four corners of the house. By creating such a type of invisible structure strong security forces are created which help to avoid the evil spirit to enter into the house or premises.
It is advisable to avoid to purchase such a type of negative Vastu affected premises which come under the following category:
A plot that is very near to the crematorium or temple.

A plot which is near any ancient temple which is vacant for more than 10 years.

A plot that is near the Maternity hospital or Nursing Home.

Do not purchase the premises which contain the noise of animals, snakes, lizards, jungles.etc.
What are other signs and symptoms of negative Vastu?
There is important factor to be considered also which should be kept in mind. They are:
1) One can find many lizards and snakes roaming in the negative vastu.
2) Sub Direction and Direction such as South-west, West, and South consist of a crack in the wall.
3) The Beam of the roof structure of the negative Vastu remains broken always despite efforts of repairing. They are in such depleted condition that they may fall at any moment.
4) Beam or the roof seems to be in a hanging position.
5) If you place a bowl of sugar into the negative Vastu area, you will not find single creatures such as flies and ants or any type of creature near the bowl of sugar after 24 hours.
6) Once you enter into the negative Vastu you may feel headache, anxiety, spells of dizziness, restlessness, and pain in the chest region.
7) A few people find difficulty in breathing and feel extremely lethargic.
8) One may feel that his energy is drained in a few minutes.
9) Any child born in such types of negative Vastu usually suffers from mental disability, like lack of clarity and mental capacity and sometimes they are born with blindness and are either handicapped or suffer from severe ailments.
10) Any house with negative Vastu where any person has attempted suicide or has been given food poisoning or died due to an accident or some disturbance in personal life.
11) A house with negative Vastu brings trauma and health issues to all the family members.
12) A lot of differences of opinions and disputes between the family members is also found in such houses.
Solutions:
1) Keep the premises clean and tidy.
2) Do not keep the photo frame of the person who has passed away (dead person).
3) Recite Hanuman Chalisa every day at 6:00 p.m.
4) Offer Agarbatti Dhoop or guggul in Pooja room.
5) Perform Satya Narayan pooja once every quarter or in 6 months.
6) On threshold offer (cut coconut) and spread in the 4 corners of the house or plot and keep 1 piece in the centre of the house.
Later after 24 hours, throw those pieces of coconut in a dustbin.
7) Avoid going out of home or perform any auspicious work on Poornima and Amavasya.
8) Do not accumulate dirt, Mud or old antique pieces inside or near to such a Vastu.
9) Do daily floor cleaning (sweeping and mopping)
10) One may also recite Guru Charitra every Thursday.
11) Make an incense stick(dhoop) out of guggul, lobaan, Chandan, sugar, and cow ghee and keep this dhoop stick for morning and evening prayers for purification of negative vastu.
Let me know How did you find this blog on "How to Identify the haunted house in Vastu Shastra?
Cheers,
Nirav Hiingu