5 + Important Vastu Ideas for your Main Door
Main Door is an extremely important in Vastu Shastra as it is the only entry and exit point in vastu Shastra. After all, then it is the science of balancing the positive and negative vibes of your house.
What is Main Door as per the Vastu?
According to ancient vastu, the main door is not only entry and exit point, but it is also a doorway to success and failure of every individual who resides in that vastu, no matter it is home, office, gala, shops and warehouse.
As per the vastu, it necessarily that whenever you step out of your home/office your face should be toward the north, east and northeast.
Since, demigods to them we refer as to energies in the tech era, are also residing in main door hence the stability of human depends on how proper and stable door s/he developed as per the principles of vastu Shastra.
READ: Do South West Facing Door Give Wealth?
I have heard that there is no door in Shani Shingnapur?
Yes, it's true that there is no Door Placement in any house/office in Pilgrim Known as Shani Shingnapur but since it is a plot blessed with the Shanidev itself then this rules of door placement do not apply to those areas.
Also, we should also make a notice that Lord Shanidev does reside in Vastu Purusha and he is also known as Judge in Astrology and Numerology hence we can't comment nor give views as to why vastu principle does not exist there.
READ: Vastu and Slope?
So What and Where to locate Best Entrance according to Vastu
According to Vastu Shastra, there are 11 Pads ( entry for the placement of door ) which are said to be auspicious and permit to create doorway as Main Gate.
Looking upon the chant, one can easily locate which are those placements permissible in vastu.
Those tick mark as ( x ) are not acceptable nor suitable for the main entrance and those 11 pad having a tick mark as right ( ✓ ) are said to be auspicious and best pad for the main entrance.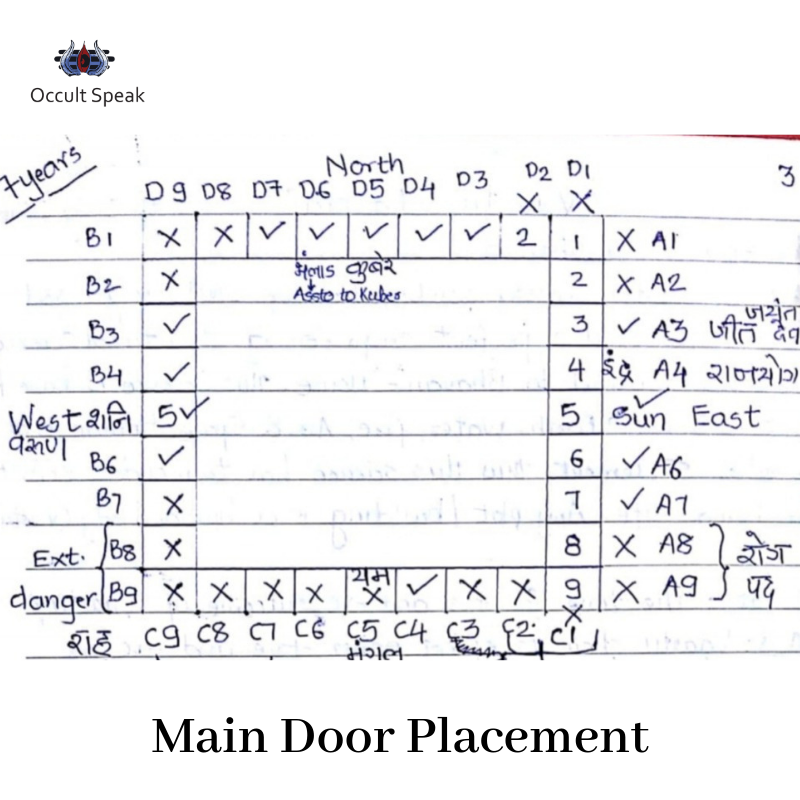 Vastu Shastra says that North, North East and West Directions are best for main entrance but if we go deeper in shastra, there are specific 11 pad. Pad means specifically marked areas where deity resides and are said to be good for the main entrance.
READ: What is Face Reading?
Guidelines for Where to place the Main Entrance of the House?
Although North East A1 and A2 are not allowed in vastu if there is a door already placed then such a door ( pad ) will not invite harm also.
In the East Direction, A5 position is the best for the main entrance as it is Surya Pad – the position of Planet King – SUN. Hence such pada also gives name, fame and health to people residing in that vastu.
In West Direction, although B1 and B2 are not good if the door is already made then it would give neutral effect.
In South Direction, all the position ( padas ) are not allowed except C4 in those case where the door is already placed hence, one can take C4 position for the door as it will yield its effect only after 2-½ years.
The head of the family may get stress to health and another issue, s/he may also get a good flow of money but only after 2-½ years not before that/
NOTE: In special case, where there is lesser space in the position of C4, one may go to C3, C2 or C1 ( in extreme case) due to a shortage of space, the main door may be extended up to C4 to C1 only toward South East Direction.
But one should take care that s/he should not use that direction heading towards South West with C5 to C9 areas.
If one has to go with C1 door opening due to some circumstance then s/he may opt for A5 area of SUN which will nullify the effect of C to C5 as this areas are low energies which always attract severe ailments. ( It is called as Roga Pada – Area of Ailments in Vastu)
Few Vastu Expert are of the opinion that C5 can be taken for water bodies ( mean one can put water element like Water Tank in that area) due to which it may attract money but it does not take the human out of the bad crisis whereas D4 padas which not only gives you money but also take you out of the severe crises.
NOTE: Water bodies in East of North East always gives Spiritualism.
In West Direction, B5 is best pada for Door Placement as it is the direction of Shanidev who is Judge in occult science.
Note : Government Official – should not take house which has West Direction Main Entrance Door, because due to their nature of business, s/he may take bribe hence due to the negative karma – west direction king – Lord Shani will punish him/her in different forms either accident, relationship issues, ailments etc.
In the North region, D3, D4, D5, D6 and D7 are said to be auspicious and gives property and wealth to people.
In East region, A3, A4, A5, A6 and A7 are also said auspicious pad for door placement as Main Door.
Sub Direction and Main Entrance
In West of North West – if the door placement is in the west of north-west then women who may be housewife will accumulate lots of negative energies in her mind and body. Later she may have disputes with husband and may leave her husband and live happily with her parents.
In North East – if the door placement is in the northeast ( Ishan Disha ) then there are high chances that stealing will take place either by breaking the window or door and the thief may enter through the exact northeast area of a house.
In South East – if the door placement of the main door is in the south-east ( Agni Disha ) then there are high chances of attracting chronic ailment like Cholesterol, High or Low Blood Pressure etc.
In South West- if the door placement of the main door is in the south-west ( Nerithi ) there are the chance of damages to the house or its members. If the stealing of household things are small then also it is a big sign of severe damages in future.
When I talk about South West Corner, it's a Rahu planet who always create illusion hence after the door placement, Rahu will make some arrangement such a way that your opp direction, i.e North East Corner will get blocked automatically.
Either you will find, Toilet, WC, Kitchen or such arrangement which will block Ishan Disha hence Rahu will become more powerful, due to which he will damage more the members residing in those vastu.
What if I make a complete change of Main Entrance from South East to North East?
Such a question may arise to someone because people nowadays want faster growth in lesser time. They feel that changing vastu will give an immediate result and later they may become a millionaire.
Well, says for example in the above case, if you change the 180-degree direction of the main door, from south-east to northeast then owner and members of the house won't be able to handle big energies diversion .therefore they may arise dispute, ailment or any unexpected event in their life. Better Consult Good Vastu Shastri before making any alteration in current vastu.
Pointer to kept in mind while building Main Door
Major Theft always occurs in the South West Corner of the house as it is the region of Rahu- who is the planet of Illusion. Hence, avoid building the main door in South West Corner.

West of North West Door makes the mind of the human unstable, especially if the women of the house who are working women and the door is placed in the west of north-west then definitely the women would remain out of the house as North West contains air elements.

It is also seen that people having a door in the west of north-west – both men and women does lots of gossiping.

NRI usually buy/purchase houses in North West. Again we have to note the rules of vastu that since North East is air element hence the owner of the houses will be out of the house or they may rent the house to someone else.
Let me know how did you find this blog on Vastu Shastra and Main Door Placement?
Cheers,
Nirav Hiingu