9 Facts You Never Knew About Swastik 
We Hindus always trend to write or draw Swastik in every auspicious time /occasion. Not in only in Hindus but also in Buddhism, Christianity, Jainism and other imp sects we can see the importance of Swastik. Few Analyst always argues that swastika has nothing to do with religion nor it has any significance or science.
Today we will talk as of how and why Swastik is important and how its effect our human life.
What is Swastik?
Swastik is defined as Swa – ( Self ) + Ish ( Ishwar – Higher Consciousness ) + tik ( which helps in an association of ) Hence the simple meaning of Swastik is to know oneself and connect it with our know higher self.
READ :  What is Dream Analysis
The 4 Boundaries and Demigods in Swastik
Since it is made up of 2 horizontal and 2 Vertical Lines, which depicts Shiva and Shakti This Shiva and Shakti also depicts Positive and Negative Energy Centre which when combine gave rises to Bindu – the Centre point of Universe – which is the Creator.
The centre point is called as Creator – Bindu as Higher Consciousness is known as Bindu – because the creator is called OMKAR as Om is the centre point of Universe.
Cross in Christianity: There is a symbol of the cross in Christianity. This Cross get depicts the Shri Ganesha – as the Vertical Lines symbolizes the body of Shri Ganesha and Vertical Lines Trunk and Head hence Shri Ganesha is known as Ganjavandan, Gajanan, Karimukha, Ebhashya, etc.
This word: Ebhashya is derived from Kari-Ashya which mean the head of an elephant.
READ :  Why do People Cheat ?
Even word Christ when split up into 3 word – Kya + Ish –esth – is the combination of above-mentioned concept – hence Christ in Sanskrit mean – the person having the mouth of an elephant – Ganesha/Gajanan.
Many people especially argue that Swastik is derived from Christianity but if we go in detail we will get to know that Swastik is part of Hinduism and Hinduism is more than 50,000-year-old tradition whereas Christianity and other religion/sect are not more than 5,000 old hence the logic does not get fitted in this concept.
Swastik and Adolf Hitler
Swastik has been adopted by German Dictator Mr Adolf Hitler who is known for his bravery and dictatorship. But Hitler and its followers have adopted the wrong way of creation of Swastik, its mirror image has been the draw in their concept which may be the main reason for the failure of Hitler.
Because Swastik is also known for Vijay Shri – mean victory over evil and spreading goodness in the world. Therefore when Adolf Hitler create its finest form of Logo ( Mirror image Swastik ) the consequences were not so good. Hence we know the failure of Nazi and Global War of 1939 -45.
READ :   Stock Market Crash 
Jainism and Swastik
Even Jain religion accepted it as Universal tolerance and brotherhood symbol. In Jain religion and Pali Language, it is called as Sakshi which mean the witness. Hence it is the witness to all your karmas, especially good karmas.
Saubhagya
In Hinduism which the ocean of knowledge says Swastik meant to have Saubhgya for the married women, here saubhagya mean as Husband hence it bestow the blessing of having a successful marriage to both men and women.
Also, we can see that in Hindu marriage ceremony Swastik was drawn to gives the auspicious energies to the people and to the couple.
Yoga Shastra
One sloka is mentioned by Patanjali to recite the SwastikaVachan on every single occasion – this swastikvachan consists of Positive Vibration which whenever is developed through Sanskrit Sloka gives rises to positivity and vanish negative energies in the surrounding.
But to those laymen who don't know how to speak Sanskrit or read its Sloka – then Indian Rishi Munis came out with an idea of Swastik hence just by drawing the Swastik with red colour Kumkum gives that effect to people who create this auspicious sign symbol.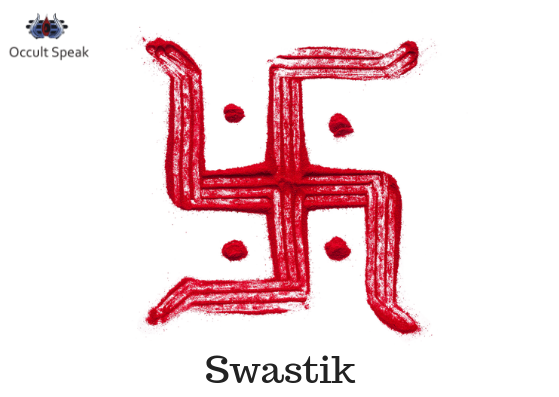 How to Draw Swastik?
Few Occult Expert gives the different opinion about how to draw the swastikas whether to draw from right to left or upside down then put the tilaka ( dots ) on 4 part /direction. But I personally feel one can make swastika symbol according to its own choice – I have n't read or saw specific method to draw this sign but yes I will say we should draw with proper structure, not in the mirror image of with deformation type.
Colour and its Philosophy
It is been ask as to why only the Red Color is given to draw this sign on board and on other structure, The reason is Red is colour of aggression and vitality, in Astrology is the assign to Planet Mar which is the colour of Bravery, Courage and High energy level. Hence whenever we used this red colour it automatically gives you extreme aggression and positive vibes to work with the focus on your goal.
The 4 lines and Dots
Again a question arises as to why this 4 dots are shown on this sign and what does it depict – The answer to this 4 dots are 4 Direction – east west north and south as well as Panchdevta. In Hinduism, there are 5 Demigods which are said to have a major source of energy and if we worship either one of 5 of them you will get full source of spiritual energy.
This 5 Demigod Or Centre of energy are Vishnu, Kali, Shiva, Surya and Ganesha. Hence this 4 lines and dots and the centre point depict the Panchdevta in Hinduism.
Swastik Vachan Mantra: (source: drink panchang )
Mantra 1 
Om Aa No Bhadrah Kratavo Yantu Vishvatoadabdhaso Aparitasa Udbhidah।
Deva No Yatha Sadamidvridhe Asannaprayuvo Rakshitaro Dive-Dive॥
Mantra Translation
May powers auspicious come to us from every side, never deceived, unhindered, and victorious. That the Gods ever may be with us for our gain, our guardians day by day unceasing in their care.
Mantra 2
Om Devanam Bhadra Sumatirrijuyatam Devanam Ratirabhi No Nivartatam।
Devanam Sakhyamupasedima Vayam Deva Na Ayuh Pratirantu Jivase॥
Mantra Translation
We call them hither with a hymn of olden time, Bhaga, the friendly Daksha, Mitra, Aditi, Aryaman, Varuna, Soma, the Ashvins. May Saraswati, auspicious, grant felicity.
Mantra 3
Om Tan Purvaya Nivida Humahe Vayam Bhagam Mitramaditindakshamasridham।
Aryamanam Varuna Somamashvina Saraswati Nah Subhagamayaskarat॥
Mantra Translation
We call them hither with a hymn of olden time, Bhaga, the friendly Daksha, Mitra, Aditi, Aryaman, Varuna, Soma, the Ashvins. May Saraswati, auspicious, grant felicity.
Mantra 4
Om Tanno Vato Mayo Bhuvatu Bheshajam Tanmata Prithvi Tatpita Dyauh।
Tad Gravanah Soma-Suto Mayobhuvastadashvina Shrinutam Dhishnya Yuvam॥
Mantra Translation
May Vayu waft to us the felicitous medicament, May Mother Earth, Father Heaven, bring it; May the felicitous Stones distilling Soma secure it. May ye Ashvins with understanding hearken to our prayers.
Mantra 5
Om Tamishanam Jagatah Tasthushaspatim Dhiyanjinvamavase Humahe Vayam।
Pusha No Yatha Vedasamasad Vridhe Rakshita Payuradabdhah Swastaye॥
Mantra Translation
We worship Him, the Lord of the universe of the inanimate and animate creation, for, He is the blesser of our intellect and our protector. He dispenses life and good among all. He do we worship, for as He is our preserver and benefactor, so is He our way to bliss and happiness also.
Mantra 6
Om Swasti Na Indro Vriddhashravah Swasti Nah Pusha Vishva-Vedah।
Swasti Nastarkshyoarishta-Nemih Swasti No Brihaspatirdadhatu॥
Mantra Translation
May Indra who is provided with great speed do well to us, May Pushan who is a knower of the world do good to us and May Tarkshya who devastates enemies do good to us! May Brihaspati, the Lord of the Vedic knowledge or speech give us spiritual delight got from the light of knowledge and wisdom.
Mantra 7
Om Prishadashva Marutah Prishnimatarah Shubham Yavano Vidatheshu Jagmayah।
Agni-Jihva Manavah Sura-Chakshaso Vishve No Devavasa Gamanniha॥
Mantra Translation
The Maruts, sons of Prishni, with spotted steeds, of happy gait, frequenters of sacrifices, the Gods whose tongue is Agni, knowers, radiant as the Sun, May all come hither for our protection.
Mantra 8
Om Bhadram Karnebhih Shrinuyama Deva Bhadram Pashyemakshabhiryajatrah।
Sthirairangaistushtuva Sastanubhirvyashemahi Deva-Hitam Yadayuh॥
Mantra Translation
Gods, May we with our ears listen to what is good, and with our eyes see what is good ye Holy Ones. With firm limbs and bodies, May we extolling you attain the term of life appointed by the Gods.
Mantra 9
Om Shataminnu Sharadoanti Deva Yatra Nashchakrajarasam Tanunam।
Putraso Yatra Pitaro Bhavanti Mano Madhya Ririshatayurganto॥
Mantra Translation
A hundred autumns stand before us, O ye Gods, within whose space ye bring our bodies to decay; Within whose space our sons become fathers in turn. Break ye not in the midst our course of fleeting life.
Mantra 10
Om Aditidyauraditirantarikshamaditih। Mata Sa Pita Sa Putrah।
Vishvedeva Aditih। Pancha-Janah Aditirjatamaditirjanitvam॥
Mantra Translation
Aditi is the Heaven, Aditi is mid-air, Aditi is the Mother and the Father and Son. She is all the Gods, She is the five-classed men, Aditi is all that hath been born and shall be born.
Mantra 11
Om Dyauh Shantirantariksha Shantih Prithivi Shantirapah Shantiroshadhayah Shantih।
Vanaspatayah Shantirvishvedevah Shantirbrahma Shantih Sarva Shantih Shantireva Shantih Sa Ma Shantiredhi॥
Mantra Translation
May peace radiate there in the whole sky as well as in the vast ethereal space everywhere. May peace reign all over this earth, in water and in all herbs, trees and creepers. May peace flow over the whole universe. May peace be in the supreme being Brahman. And may there always exist in all peace and peace alone.
Let me know how did you find this blog?
Soham,
Nirav Hiingu