10 suicidal traits seen on Bhaiyyu Maharaj suicidal note.
Spiritual Leader ,Social Reformer and Guru – Shri Bhaiyyu Maharaj committed suicide by shooting himself at his residence –Silver Spring,Indore,Madhya Pradesh today on Tuesday 12th June 2018 in afternoon near to 2 pm.
Bhaiyyu Maharaj has shot himself through his licensed gun on his right side of the temple.  A Suicidal Note has been found near to his dead body.
Bhaiyyu Maharaj has seen in great stress and found to avoid the public ceremonies for 2 years. Born in 1968 at Shujalpur, Maharaj-ji whose real name is Udai Deshmukh has been in modelling before entering into spirituality. He has played the major role in Anna Hazare Hunger Strike for Lokpal Bill in 2011.
I received this suicide note through my grapho colleague. Been inclined toward spiritualism – I wonder how a self-styled spiritual guru can develop such suicidal tendencies. Few Week ago I wrote a comprehensive list on Suicidal tendencies Detection through Graphology.
I went through the Suicide note on Bhaiyu Maharaj which I received from the friend on mine and this note is also available on internet hence considering this sample I started analysing the traits and whatever the finding is sort will list.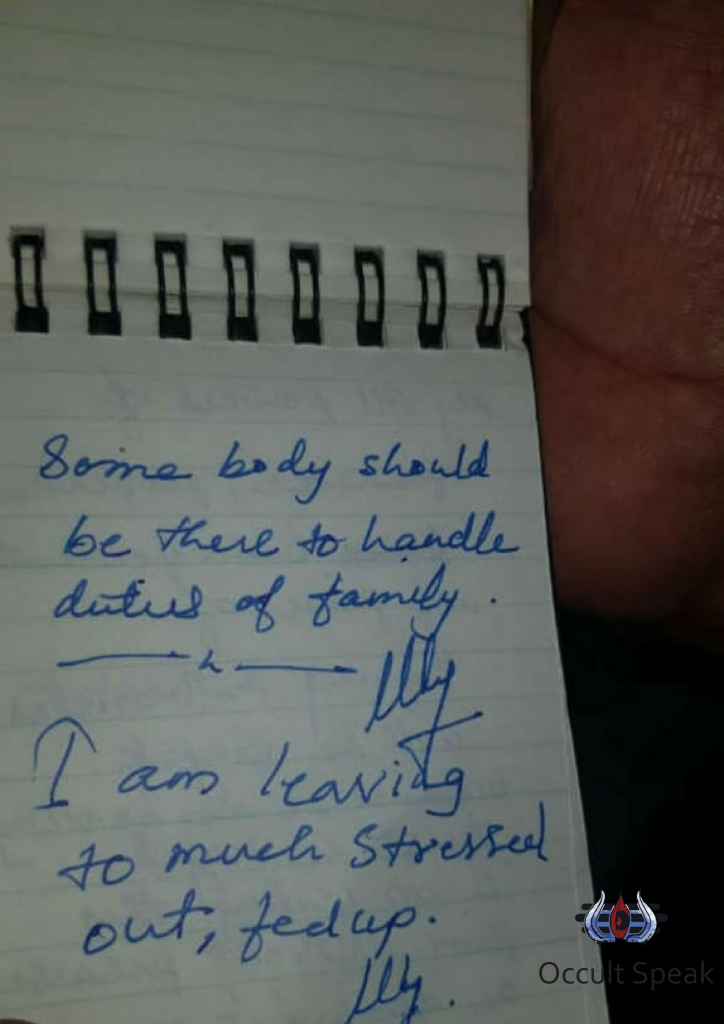 1)    Multiple Slant: We can clearly look into the sample the letters having multiple slants,  moving into the different direction which shows the unstable mindset of the person hence –mood swing.
2)    High Pressure: The ink flow which it is seen very high in the sample show the emotions of the person is uncontrollable. This saint has been in such high stress that there is extreme flow of ink with pressure .
3)    PPI: The PPI in Letter –"I" show lack of proper support and feminine energy which is seen in upper stroke hence we knew the saint –Bhaiyyu Maharaj has married for the second time last year after his first wife died. The person is filled with stress and anxiety.
4)    I dotting : I dotting is seen in small letter "i" in which dots is the experience of the human.IN Bhaiyu Maharaji sample's I dotting is wavery – moving left and in letter family – absent of dot. Hence show extreme anxiety in mind which also later leads to high palpitation .
5)    Descending Baselines: The clear sample of baseline moving in right downward direction show the person has given up all the hope.
6)    X Formation in Signature : The formation is formed by two letter seen in Signature making shape of triangle show – this saint has multiple attempt to saved the critical situation which is very general in X formation people. Such people tried a lots to save their relationship but when it seem that No ray of Hope is seen – X formation is seen as a marked of negative gesture.
7)    Letter –t and o : Have high pastocity on left side ,as a Handwriting Analyst this extra pastocity is sign negative self gratification which is seen in letter a and o – again this two letter are of self image which show how a person seen himself whether worth contributor or low self image. Since the letter a and o are middle zone letter they depict how person enjoy his present life – One can see these letters are filled with ink seen stomach- intestinal issues/ailment and depict lack of interest in life ( social and personal ) .
8)    Letter t : It is worst noting his letter t written in such a way : that create a Cross sign which also depict that saint may have tried to hang himself in past ( as a multiple attempt ) for suicide.
9)    Illegible Signature : The signature of saint is totally illegible which also shown this high level of anxiety and secrets hide beside this hasty decision.
10)    Angular Formation: Across the sample, we can be seen the angularity and sharpness in all letter that shows person feel that he would not able to handle the crisis hence the angles show Maharaji stress level.
I prayed for this departed soul, May his soul rests in peace and Jadamba blesses their family to restore energy for the loss of this great human.
Soham,
Nirav Hiingu