Why Panchanguli Sadhana is Key to Success for Palm Reading?
Panchanguli sadhana: The hand is the most important part of a human being. I mean to say that only palm of a person can help to study the inner and outer parts of his/her life.
In the previous blog, we have learned the basics of Palmistry and how to read/detect the time and date for death through Palm reading. Today I will be introducing my esteemed readers to the Goddess of Palmistry – 'Maa Panchanguli'.
Lord Panchanguli is said to be the main Deity of Astrology and Palmistry. In Occult Science, Sadhak always worships the Mystic Energy (Deity) to gain Super Natural Powers to predict past, present, and future.
Even Astrology has its limitations in future prediction. It can predict or give tentative dates of an event happening in the future course of time, but it can't give you the exact time in minutes and seconds.
Whereas Occult Science not only helps in keeping the Past, Future, and Present, but it also helps in giving the accurate details of the incident for future events e.g the time, date and time zone.
But for getting the accurate details in forecasting the future, one has to worship Lord Panchanguli who is the main Deity in Occult Science as well as Astrology.
Vedas say that those who practise the sadhana of Lord Panchanguli not only get the blessings from the Devi (Goddess) but also get name and fame. S/he gets the highest position in society.
Today I will be revealing the secretive Mantra Sadhana of Maa Panchanguli. Although this Mantra Sadhna is very lengthy and painful, it needs daily 12 to 14 hours of the contribution of performing the rituals and meditation. Hence the success rate of the Panchanguli Sadhana is very less.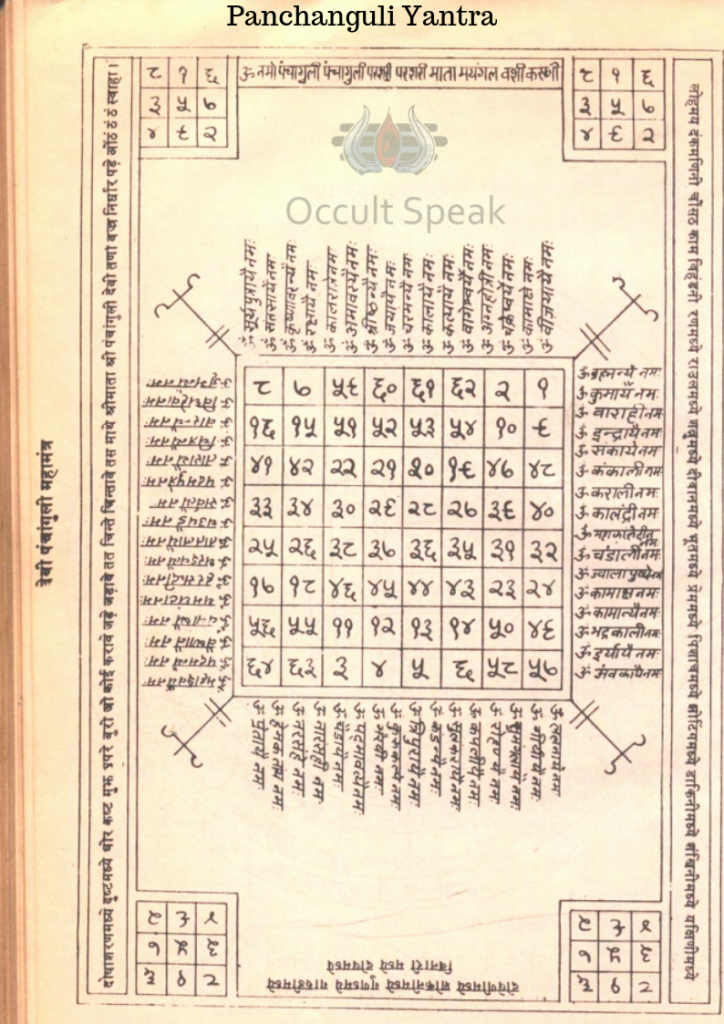 Panchanguli Sadhana Vidhan:(Method of performing prayer)
Month:
Sadhana can be done or performed in any month, but it is better to perform this Sadhana in the month of Vaishakh, Karthik Ashwin, and Magh.
Tithi (Dates of Hindu calendar):
This sadhana can be performed on any of these dates in Hindu Calendar:
Dates of Shukla Paksha 2, 5, 7, 8, or Full Moon.
Days:
The Best Days to start the Sadhana is Sunday, Wednesday, Thursday, or Friday.
Nakshatra:
Krutika, Rohini, Punarvasu, Hasth, Anuradhan, all 3 types of Uttara Nakshatra and Shravan Nakshatra.
Lagna:
It is always preferable to take Sthir Lagna for Panchanguli Sadhana such as Sighna Lagna, Vrusha Lagna, Vrushik and Kumbh Lagna.
Location:
The Mantra Shastra says that one should always perform sadhana, where there is isolation such as jungle, crematorium, seashore, near the bank of a river or on a mountain.
Procedure:
Take bath and wear dhoti/saree (Dhoti for men & Saree for women).

Sit down on the

asana

facing towards the North direction.

Take a deep breath and chant Omkar 21 times.

Now perform

Sandhya Vandan

.

Place a wooden plank, place a white or yellow asana for Devi Panchanguli.

Keep the photo frame of Devi Panchanguli and offer Pooja (Panchopchar Poojan) such as Gandh – Kukum, Akshat – Basmati Rice, Pushpa – Flower, Deep – Cow Ghee, and Naivedya mean Sweet in Yellow Color.
Light a Diya with cow-ghee and an incense stick (agarbatti).
Take Sankalp that you are performing this pooja and sadhana to get the blessings of Maa Panchanguli.
Then Chant Ganesh and Guru Mantra – mala.
Now with Rudraksha Mala, chant 108 times below mentioned Panchanguli Mantra.
Daily after Mala Mantra Jappa, perform Havan – 10 Aahuti with Pancha-Meva.
Once you complete the sadhana for 30 days, sadhak must recite this mantra daily 7 times in front of the Sun at the time of sunrise and blow air in hand and move the hand on the whole body. This will energize the whole energy centres of the astral body which helps a person to peep into the past and future of any person on Earth.
Panchanguli Dhyan:
Om Panchanguli Mahadevi Shree Shreemandhar Shashne, Adhisthastri Kar-shyashyo Shakti Shree Trideshitu
पंचांगुली ध्यान:
ॐ पंचांगुली महादेवी श्री श्रीमंधर शाशने अधिठास्त्री आधिष्ठ्री कर-श्याश्यो शक्ति श्री
त्रिदेषितु ॥
Panchanguli Mantra:
Om Namo Panchanguli Panchanguli Parashari Parashari Mata Mayangali Vashikarni Lohamaya Dand Manini, Choushat Kaam Vihand-dini Ran Madhye, Rahul Madhye, Diwan Madhye, Shatru Madhye, Bhoot Madhye, Pishaach Madhye, Jyoting Madhye, Dakini Madhye, Shakini Madhye, Yakshini Madhye, Doshini Madhye, Shekhini Madhye, Guni Madhye, Garudi Madhye, Vinari Madhye, Dosh Madhye, Dosha Madhye, Dosha-sharan Madhye, Dustha Madhye, Ghor kastha Mujh Upper Buro Jo Koi Kare karave, Chinte Chintave Tasha Mate Shri Mata Panchanguli Devi Tano Vrjra Nirdhaar Pade Om Thamha Thamha Thamha Swahaa
पंचांगुली मंत्र:
ॐ नमो पंचांगुली पंचांगुली परशरी परशरी माता मयंगली वशीकरणी लोहमयी दंड-मणिनी चौषठ-काम विहंददिनी रण-मध्ये ,राहुल-मध्ये, दीवान- मध्ये,शत्रु मध्ये,भूत मध्ये,पिशाच मध्ये, ज्योतिंग मध्ये, डाकिनी मध्ये, शाकिनी मध्ये,
यक्षिणी मध्ये, दोषिणि मध्ये, शेखिनी मध्ये, गुनी मध्ये , गारुडी मध्ये, विणारी मध्ये, दोष मध्ये, दोषा मध्ये,दोषा
शरण मध्ये, दुष्टा मध्ये, घोर कस्था, मुझ उप्पर बुरो जो कोई करे करावे चिन्ते चिंतावे तशे माते श्री माता पंचांगुली देवी तणो व्रज निर्धार पड़े ॐ ठंः ठंः ठंः स्वः ॥
Note: Indian Occult Science and scholars say that one should start Panchanguli Mantra Sadhana in Kartik Month Hastha Nakshatra and end in Margashirsha Month Hastha Nakshatra only.
Material/Samagri required in Pooja of Maa Panchanguli:
KumKum

Coconut (Nariyal)

Deepak

Abir

Rice

Yoghurt (Dahi)

Gulaal

Badam

Sugar (Shakkar)

Mouli

Walnut (Akhrot)

Paan

Supari

Kaju (Cashew)

Bhoj Patra

Saffron (Kesar)

Kishmish (Raisin)

Leaf of Peepal Tree

Patasha

Fine Sugar (Mishri)

Unboiled Milk of Cow

Sweet made of Pure Cow Ghee and Milk

Incense Stick (Agarbatti)

Ghee

Camphor (Kapoor)

Clove (Laung)

Flower (Pushpa)

Cardamom (Elaichi)

Black Pepper (Kali Mirch)

Garlands

Havan Samagri

Yagnopavit

Honey (Shahad)

Gangajal

Fruit (Seasonal)

Ittra (Rose Perfume)

Water from Well
Let me know how you find this blog on Panchanguli Devi.
Soham,
Nirav Hiingu