Falnama for Marriage: Hakim Lukmani is a Famous Occult Scientist in ancient Unan and Asia who has multiple expertise like Face Reading, Astrology, Numerology, Unani Medicine, Ayurveda and Siddh medicine and what not.
Apart from been famous astrologer and numerology Hakim Lukmani was also bearing expertise and in depth knowledge of Alchemy , Philosophy, Religion, Political Science, Literature, Art and Crafts, Natural Resources and among all he was well known for Astrology and Numerology.
Hakim Lukmani has deep interest in occult science since his childhood hence he engrossed himself in studies of different subjects from his early teenagers.
Falnama Hakim Lukmani : The Utimate Guide for Spiritual Upliftment
Hakim Lukmani was a curious mind therefore he kept researching on astrology and numerology and found one amazing methodology "Lukmani Falnama" which proves to me as accurate as other science or modalities.
This method was named after him as Falnama Hakim Lukmani which is so effective that one may get instant answers to his queries whether it is related to child, finance , education, travelling, marriage, relationship or life death or ailment.
Hakim Lukmani said in his script that one needs to have deep faith in astrology and numerology science then only you will get the solution to your questions.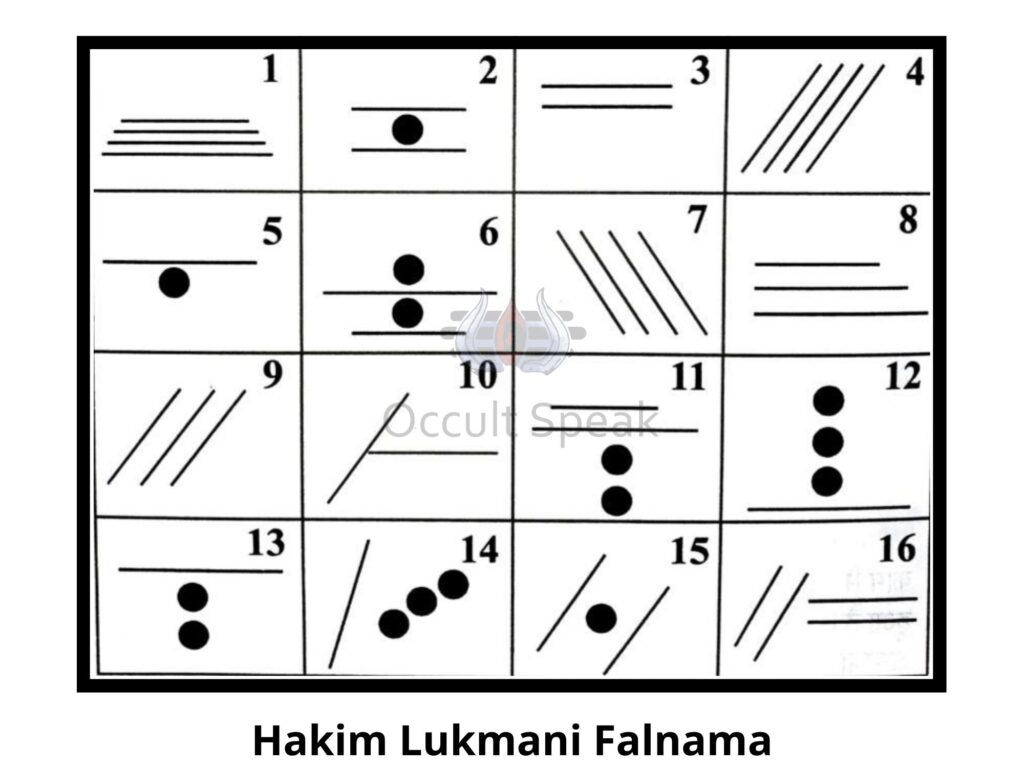 How to Use Hakim Lukmani Falnama: हाकिम लुक़मानी फलनामा
The procedure to get an instant answer through this Hakim Lukmani Falnama is:
Take a bath and wear clean and fresh clothes.

Close your eyes and pray to your Deity.

While chanting /praying, put your middle finger on the given chart (any part of the chart).

Now, look at the Hakim Lukmani Chart, your middle finger has touched.

Note the reading given in the prediction chart.
Note – The 16 prediction NUMBER images are full of mystery and are easy to use but you need purity of mind and soul and clear intention while using this Hakim Lukmani Falnama to get accurate answers for your problems.
16 Predictive Notes in Hakim Lukmani Falnama
ONE – This Number image is very auspicious. Your wishes/desire will get fulfilled sooner. If you are planning for a long trip /travelling then it will be a fruitful journey.
You will meet higher authority officials and this social networking will help you in personal and professional life. You will get good news from your child.
TWO – Your inner desire will be fulfilled sooner, have some patience. If you travel in the far east direction, you will get success.If you find success and benefits from business related to animals like horses. Your work desire will be manifested in the next 40 days.
THREE – This Number image is not pious. Whatever you have thought in your conscious mind would not get manifest at any cost. There are high chances that you may attract ill fame in society.
You may get indulge in false allegations or court matters. For better results, find a monk/fakir and offer him 2 Wheat Bread ( गेहू की रोटी ) , one turmeric ( हल्दी की गांठ ) and 2 Rupees in Donation on any Thursday.
Things will get cleared and you will get relief from your problem.
FOUR – The current time zone is not favorable for you. You are suffering from some ailment but the recovery stage is quite slow and you won't be able to get rid of these diseases.
In case you have lost your things, it will recover after 1 year. The planetary system/chart is not favourable for you, better take rest and have patience for a good time to come.
FIVE – This is a good time to complete the pending work. Sooner or later you will hear good news. You will get such news for which you were waiting for a long time.
You will be delighted as in upcoming days, you will wish to get manifested for which you have been hustling for a long period of time.
SIX – Auspicious time, your wishes will get fulfilled but you need to have patience, you don't have to take hasty decisions. Right now you are surrounded by lots of issues due to which you are in stress.
Have faith in Allah and self, in the next 24 hours all your issues get wiped out.
SEVEN – Not a good time to start a new job/business. You are again stuck down with multiple issues and there is guilt and resentment inside your mind therefore it is advised to you should not start new work, else it will hamper your current work zone and it creates a mess for you.
For the next 40 days, do not start or undertake any new project.
Better, donate One Rupees and 5 types of Daal to any monk-fakir on Monday.
EIGHT – Not a favourable time for you, whatever you are looking for would not get fulfilled. There seem lots of hurdles in your current project.
There is a high chance that this work will get extended further hence it is advisable to wait for another 15 days. Keep patience, work will fall on its destined time.
NINE – Auspicious time, your wishes will get fulfilled without any effort. Travelling will be beneficial for you. There are chances that you may take part in Marriage and such festivals which will give you joy and happiness. Stay Bless.
TEN – This is an extremely auspicious time for you. In case, you are looking to get married , don't go for second thought, keep the proposal for marriage, you will get married at the earliest. You will get the best soul mate.
You will get connected with higher authority and government officials. You will prosper in your business/job. One will get rid of all the old aged ailment(s).
ELEVEN – Best time to start a new project or complete the pending work, you will succeed. If any family member(s) has left the house, s/he will come back sooner.
Good news will prevail in the family. There are chances that you will participate in family ceremonies or festivals which will be beneficial for you and your family.
Business will multiply multi fold.

TWELVE – Time is not favourable for you. Since, you are considered luckiest person among your friends and relative but right now the planetary system is not getting match with your frequency hence, advice to keep patience and keep working towards your goal.
THIRTEEN – This Number image will give you name and fame. If you are suffering from any ailment(s) then you will recover from diseases. If your question is related to imprisonment then the chances are high that person you are looking for will get free from the bondage.
Your rivals-enemies will get settled at your terms and conditions. They will get impressed with your work and you have to travel through which you will get benefits.
FOURTEEN – Good time for a new project. In the planetary system, the Moon is emitting positive vibes on you, you will get benefits due to the moon planet in the form of help from female energies- Mother, Sister, in law, benefits from food and beverage businesses.
There are high chances you will get monetary success through unexpected means or channels. With least or zero efforts you will get success in your venture. You will meet you near and dear one in future and will hear good news.
FIFTEEN – Auspicious time to start/undertake any project/work. Your Line of faith ( Bhagya Rekha ) is influenced by Mercury mount hence you will succeed in your work.
Try your hand in content writing or content creation, the success rate is quite high in copy or content writing. You will be blessed with Vaak Shakti, the communication skills will be improved and people coming under your contact will get impressed with your personality.
You will get name and fame. All the hurdles will get wiped out. You will get lots of respect and honour in the public domain.
Donate 2 Amla and 2 Rupees to poor and needy people on Wednesday.
SIXTEEN – Best time zone is prevailing for you. Once you make your mind, all your pending work will get complete.You will get benefited from marital relationship. You will be blessed with a beautiful soul mate and children(s).
You will have to travel and may meet high authority and government officials and get benefited with networking and business ventures.
Let me know, how did you find this blog on "Hakim Lukmani Falnama"?
Your Faithfully,
Nirav Hiingu