7 Quick Vastu Tips for Pooja Room
In Hindu families, a 'Worship Room' (Pooja Ghar) or 'Meditation Room' is created for daily puja rituals, chanting and meditation inside the house.
People usually ask me as to what is the best placement for the 'Puja Room' in a house.
READ: Lucky Date Numerology
Should there be a Meditation Room?  It gives negative vibes, according to some Vastu analyst.
This Cosmos is built up by the Almighty with some specific reasons which will always remain unknown and mystery to all of us. To know about yourself, you need to have a clean and pure atmosphere for puja and meditation because the Almighty is pious and complete with no contortion (Vikaar). Hence, for performing puja, apart from the puja material, space for puja also, should be clean with a proper location in the house.
Since we need to invite and accept higher energies in our house, the Vastu Shastra says, the location 'North East' – Ishaan Disha/ Ishan is said to be Lord Shiva who is called Devo Ke Dev – Mahadev Ji. Hence, the ideal location for Puja-Sthaan is exactly in the 'North East' only.
READ: How to Detect Backstabber in Handwriting
The second best location after North East is East (Poorv Disha) direction – the space for Planet 'SUN'- the Surya Dev.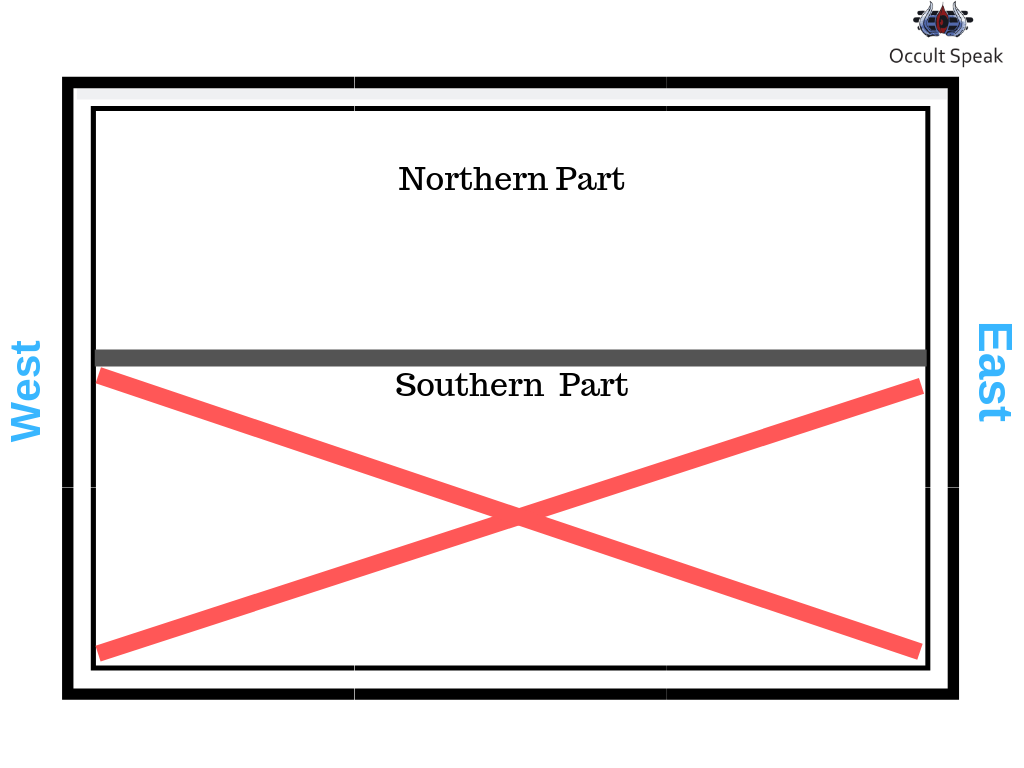 In Vastu, space is majorly divided into 2 parts viz Northern and Southern part.
Shastra says – Pooja Room or Meditation Room should be only in Northern part of Vastu.  To have a better understanding, refer to the given diagram no.1.
Avoid making Pooja room in Southern Part as Shastra says its Raakshas-Sthaan.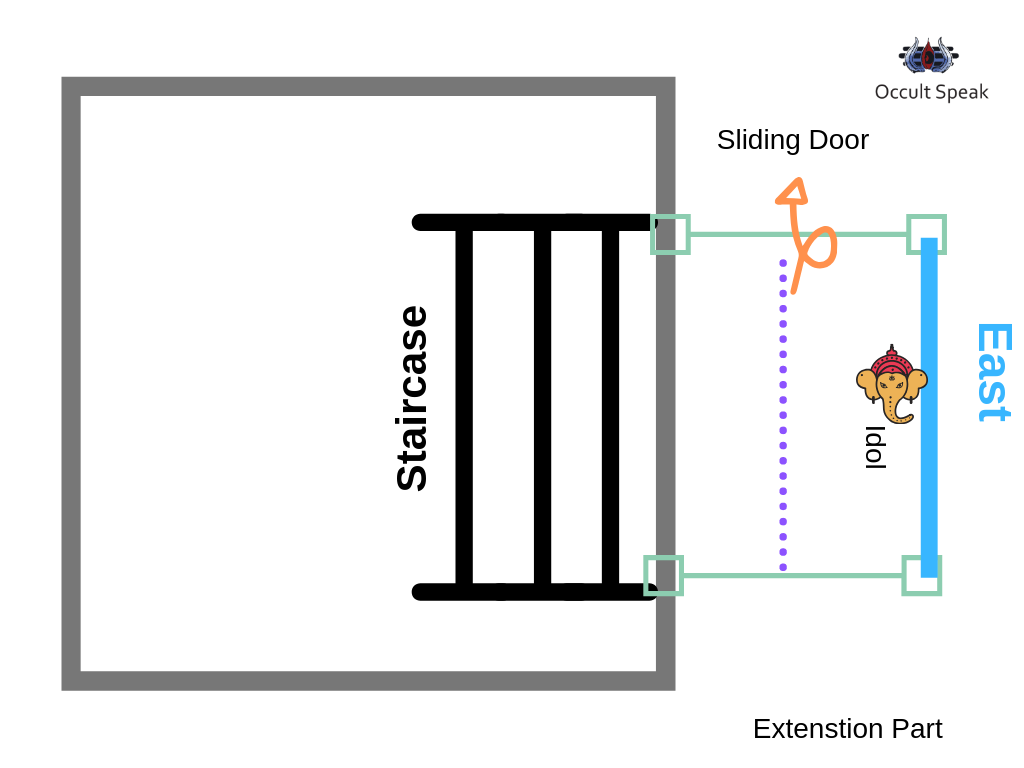 Key Pointers while preparing Vastu for Puja Room:
Pooja Room/Meditation Room should not be kept in a zone which is an extension of any part of Vastu Mandala. Many people create extra space in the balcony and make a bench with marble or granite platform to create a base of the temple (Pooja-Sthaan). Such an arrangement is said to be an insult to the Devi-Devtas in Vedant since you make the demigods rest in a jhoola in such a created temple/pooja -Sthaan also. ( Refer to diagram )
Avoid making pooja room /placement under the staircase which is again a Vastu Dosha.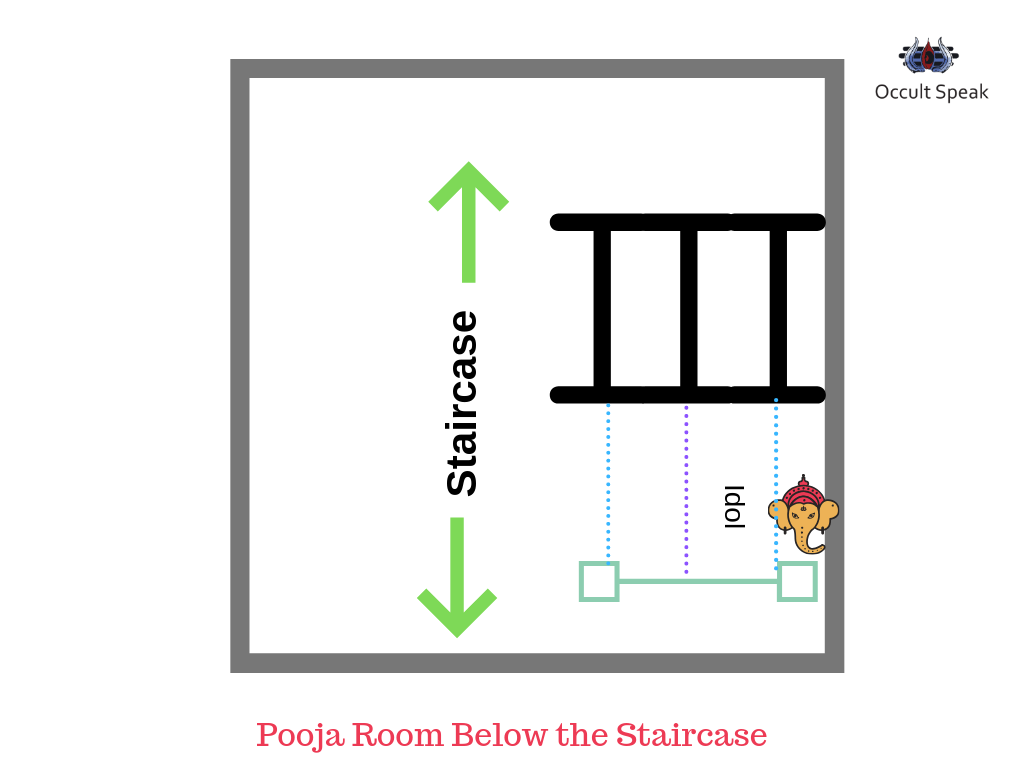 One should not face south direction while performing puja or any rituals.
The Best Direction is East or North Direction.
NOTE: If the Living area is in North East, then space of Pooja Room can't be created as it comes in public domain. In such cases, an arrangement should be in East, North and another zone. Refer to the given diagram for a clear understanding of placement of Temple ( Placement given as A, B , C , D )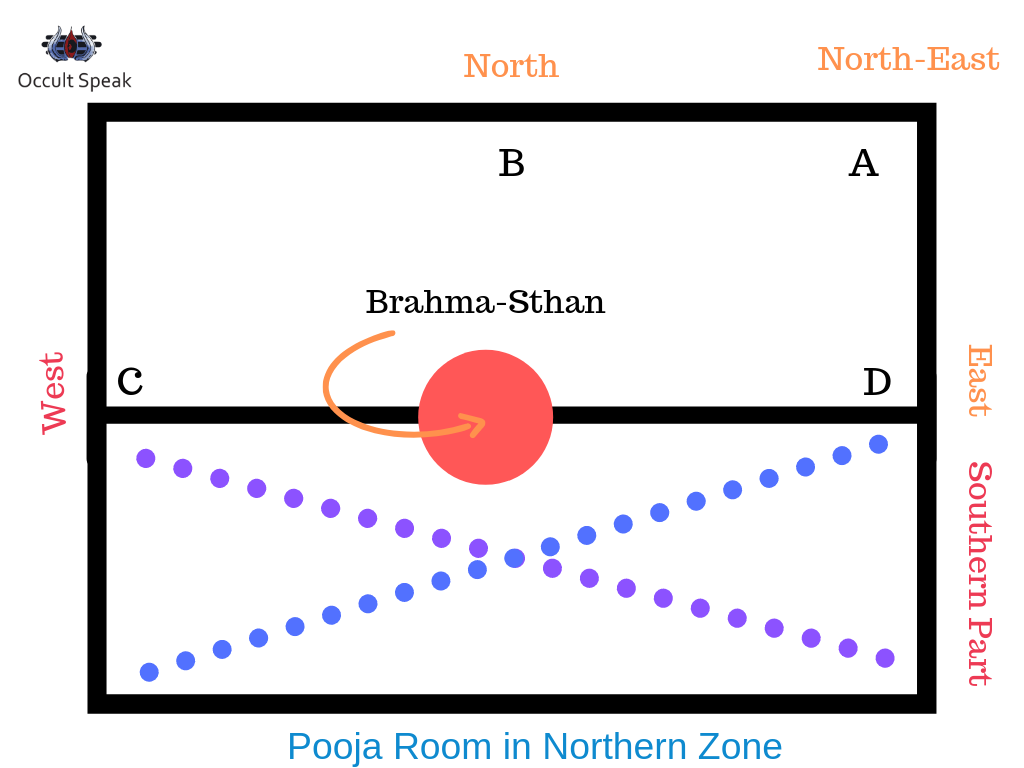 Avoid making temple or Puja Room in Centre of the Vastu.
Arrangement of temple and Deities in Puja Room:
Place the complete Shiva Family in Pooja Room (Shiva and Shakti with Ganesha and Kartikeya ).
This helps in creating amazing bonding in the family as Shiva's family is said to the best family in the universe.
READ: Greha Pravesh Muhurat 2019
The Deities should face towards the West Direction.
The Deities should be placed on a Yellow or Red Asana.
The Deities should be placed on /near a foundation which should be more than 2 feet but not more than 6 feet, depending on the height one needs to keep the temple.
Do's and Don'ts:
A few Vastu Analysts say: One can build the temple in between the centre of the Vastu which is also known as Brahma -Sthaan but I don't agree with this opinion.
Also, avoid placement of Idol or Temple in Kitchen. Refer to the diagram given below.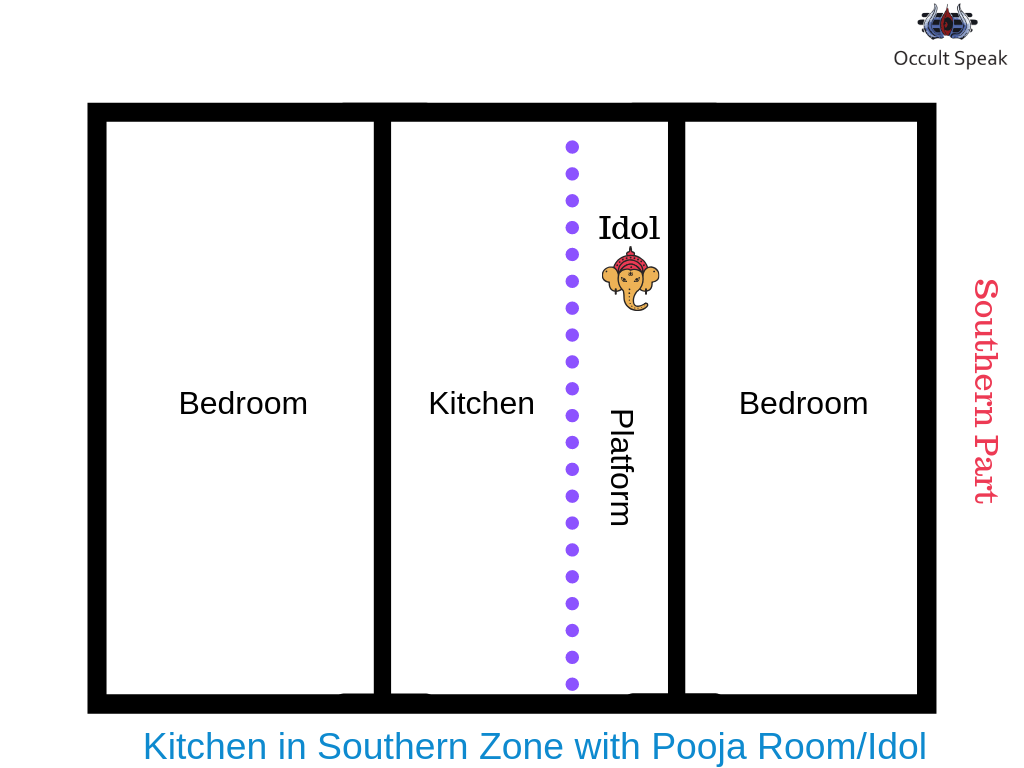 Can we place a Ganesha Tile outside Main Door?
A few scholars who believe that Ganesha show not be shown to others in a temple as well as at the main door. But I beg to differ at this point. In my opinion, it is a false belief and one can place a lord Ganesha's tile outside and above the main door and simultaneously place another tile (if one wishes to) exactly at the same level inside the wall of the main door.
Should broken photo frames, Images or idols of Deities be kept in the Meditation /Pooja Room?
One should avoid keeping such broken idols and images of deity in the meditation or pooja room.
What to do with such broken Photo frames or Idols?
They should be immersed in water, in the middle of a pond, river, lake or any water-body respectfully. While immersing such idols or images, one should offer prayers to the deity.  One should never throw the idols or images in the river/lake etc. After immersing in water, one should pour some cow-milk on the idol/image/frame, apologise to the deity, and seek blessings.
Let me know how you find this blog on Vastu Pooja Design
Cheers,
Nirav Hiingu