In the series of Falnama, I have discussed different types of Falnama such as American Falnama , Ruhi falnama . Rashi Falnama. In the last blog, I have discussed Hakim Falnama which helps the person to know about the future events with the help of numbers and letters.
Today I will discuss with you, 'Karishmayi Falnama' which will assist you to sort out the mysteries of your life. If you are travelling for a business or an official trip or even for holiday and if you want to know about the outcome of the event.
Karishmayi also helps you to know about travelling and health issues, about the litigation or Court matters or if any type of suspicious activity is going on by your enemies or rivals in businesses.

In such a situation, one can take help of the Pious Modalities to know the outcome of the event.
How to Use Karishmayi Falnama: करिश्माई फलनामा
The procedure to get an instant answer through this Karishmayi Falnama is:
Take a bath and wear clean and fresh clothes.

Close your eyes and pray to your Deity.

While chanting /praying, put your Middle or Index finger on the given chart (any part of the chart).

Keep moving your finger on the mentioned chart for 7 times.

Now, look at the Karishmayi  (number sign), your finger has touched the 7th round.

Note the reading given in the prediction chart.
Prediction Chart for Karishmayi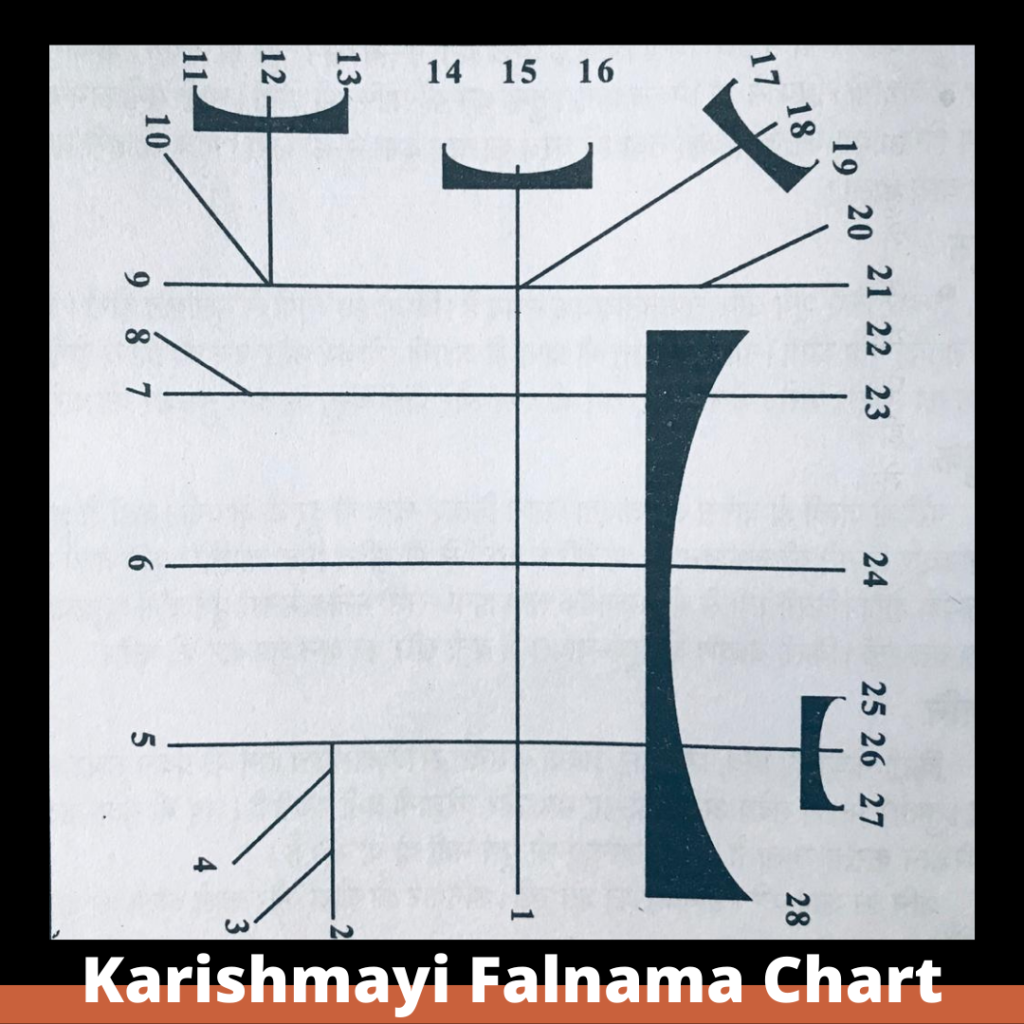 Number 2, 4 and 8
These are not good numbers in Falnama.
If the finger stops then the plan holiday/business trip will give you lots of stress and anxiety.
Number 2, 4 and 8 depict you will defeat your rivals and enemies.
Number 2, 4 and 8 indicate there are high chances of diseases will burst out and one has to suffer from severe pain and agony.
Number 1, 3, 5, and 9
If the finger finally touched on these numbers then the trip would not be that good and fruitful as you desire.
This number is an indication of your long-standing chronic ailment and it is not a favourable time to expand the business as the rivals are always in opportunities to defame you.
Number 6, 7, 26 and 27
If the finger touches on these numbers then you have to opt or plan for a long business trip. This journey would be extremely wonderful and gives you a soothing experience.
The rivals in business and your so-called enemies will calm down and stop all the activities against you. They may fail against you in the court of law and the judge will order a case in your favour.
Sooner you will get rid of your long-standing chronic ailment.
Number 10, 11, 12, 13, 14 and 15:
These numbers show a negative time zone and hence it depicts that the current time waves are not favourable for you. Better, do not run here and there and waste your time, energies and resources in those areas which are hard to find.
The journey is destined to happen and will not give positive fruit to you. In the court of law, there are high chances that your current court-case dates will get postponed or you will be given another date for appearance.
Number 16, 17, 18, 19, 20 and 25: These numbers are said to be high auspicious numbers and always emit a positive effect on the human who comes under this preview.
All the pending work will get completed within a stipulated time zone and you will feel estranged as to how all the work gets aligned with you with or without least effort.
The rivals/enemies will try to compromise on your terms and conditions. You will defeat your enemies.
Sooner, you will have to go on a business trip and you will get benefited from this trip.
You will recover faster from the ailment you are suffering with.
Number 21, 22, 23 and 24
These are also pious numbers in Numerology and Falanama.
Your rivals-enemies will get settled at your terms and conditions. They will get impressed with your work and you have to travel through which you will get benefits but the travelling will take some time, hence you need to develop the patience level to wait for the right opportunities.
In the Court of Law, the judgement will be in your favour or probably you will get the next date from the court and in the next Date, judgement will be in your hand.
Your enemies and rivals will try to put lots of hurdles to defame you but they won't succeed in their purpose. Hence, they will impress with your strong will and get settled down with your terms only.
You are suffering from some ailment but the recovery stage is quite slow and chances are high that ailment may aggravate but later it will show faster recovery and you will be in a full healthy state of mind.
Let me know, how did you find this Blog on "Karishmayi Falnama"?
Cheers,
Nirav Hiingu